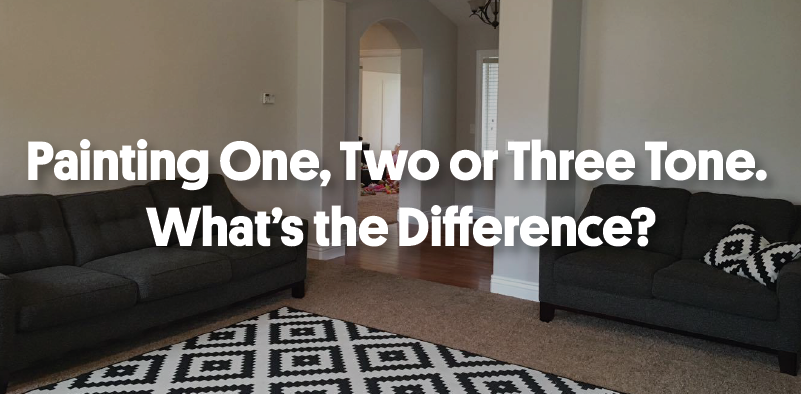 Whether you are repainting your house, deciding the colors for your new construction home or planning on painting your soon-to-be finished basement it's important to know the different paint options. There's a big misconception or confusion about what One Tone, Two Tone or Three Tone painting means, so we've decided to write a short article about what the differences are and show you some examples of each.
One Tone Painting means that the ceiling, trim, doors and walls will all be painted the same color and sheen. When 1 Tone is done, most of the time everything will be painted all white or an off-white color.
Two Tone Painting means that the ceilings and walls will be painted the same color and sheen, and the trim and doors will be painted a second color. The most typical type of 2 Tone Paint is doing the trim and doors a white color and the walls and ceiling a gray, beige or off-white color.
Another option for doing two tone is having the walls and ceilings all painted white and the trim and doors painted a 2nd color, usually a darker gray or brown.
Three Tone Painting means that the ceiling is one color, the trim and doors another, and the walls a third color. When painting 3 Tone, the most common colors are white for the trim and doors (Usually in a Semi-Gloss finish), white for the ceilings (Usually in a Flat Finish) and the walls a color of choice, with the most popular options being grays, greige, beige and off-whites.
The main misconception happens here because people think that since the ceiling and trim are white that counts as one color and the wall color is the second one, but in reality, it is counted as 3 colors, hence getting the name Three Tone paint.

So now you know the differences between each paint tone option and have seen pictures of some projects we've done in each and what they look like and hopefully if you were confused about each this post has helped clarify the differences a little bit. Everyone has different tastes and likes and these 3 options don't limit what we can do on painting, there's always accent walls, rooms done in different colors and more.
Whether you are considering painting One Tone, Two Tone or Three Tone, Happy Home Painting can help you with your project, answer your questions about colors, and give you suggestions on what can work best for painting your home. So go ahead and call us or send us a message and we'll give you a Free Quote to transform your home.
P.s: Don't forget to check out our Facebook and Instagram page where we share more pictures of projects we're working on!