Have you looked at your cabinets and thought "Arghhh… I'm so tired of that orange color!" We know replacing them is expensive, so we offer cabinet painting services. Why? Because most cabinets are in great shape, they are just outdated and need to be brought back to life with a new color.
Our process is designed to give your cabinets a fresh, new look in just 3-4 days.
From kitchen cabinets and islands to bathroom vanities and built-in cabinets, our skilled crew will give your cabinets the attention they deserve.
Furniture, flooring, walls and hardware adjacent to the areas to be painted will be covered and protected.
Cabinet doors and drawer fronts will be taken to our shop off-site to be worked on and sprayed. (We will spray our finishes for a smooth look, making your cabinets look like new again!)
Cabinet boxes, sides and frames will be worked on at the job site.
Cabinets will be sanded, primed, painted and a lacquer top coat will be applied.
Cabinet doors, drawer fronts, hinges and handles will be installed again.
Your kitchen and bathroom cabinets look like new and are ready to be used again.
What's the best part? The typical cabinet project takes only 3-4 days! So if you're ready to get started with your cabinet painting project contact us for your FREE Quote!
Cabinet Painting Service in Utah
With our commitment to quality workmanship and on-time, budget-friendly services, you can trust Happy Home Painting to transform your kitchen and bathroom into the space you've always wanted. 
Contact us today for a FREE quote and let's get started on your cabinet painting project in Utah Valley!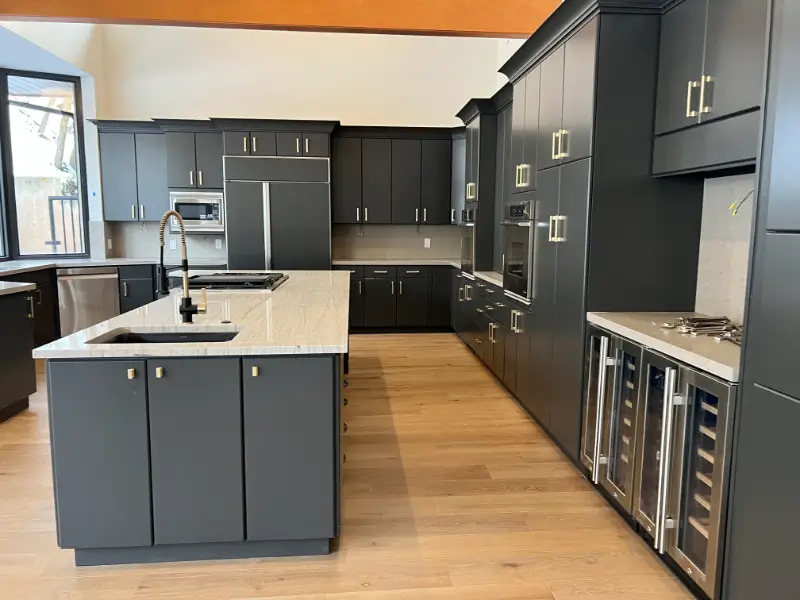 Our Customers Received Exceptional Service
Explore Our Recent Cabinet Painting Projects
These workers are great to work with. They did extra little things as they saw that they needed to be fixed, for the same price. They do a great job and clean up after tbey are done. Very good workers and Ivette, their scheduling person is so easy and very professional to talk to. Their price is very decent.
When they originally painted our home, we apparently had a bad batch of Sherwin Williams paint (very rare). Happy home painting was responsive to trying to better understand what was going on, and when discovered the issue, even though it wasn't their faults, they came and repainted our entire home. Thank you!
Ivette and her crew were extremely flexible with us and made the process extremely easy. She drew us up several different bids multiple different times and didn't have so much as one bad thing to say. The pricing is extremely fair, the crew did such an amazing job (quickly too!!!), and their clean up was flawless. They were always there when they said they would be, and left as promised as well. I would recommend these guys to my closest friend.
thanks to Happy Home Painting. Very reasonably priced and great workmanship. Reliable and professional.
We had Happy Home Painting come out and paint our garage. They were professional and meticulous and met all our expectations! We will definitely hire them again for future projects!
Contact Us today for a free quote!